I reported this to Roland a few weeks ago and have not heard back yet as to whether this problem has been verified or can be corrected. I'm not 100% sure that support staff fully understood the problem. The issue is that the keyboard on the Jupiter 80 will not transmit all velocity values. The Jupiter sound engine will receive and play all velocity values, but when values cannot be transmitted via the keyboard, there is no way to get these values from the sound engine.
The reason I went to the trouble to test this is that while playing the Supernatural Pianos and EPs, I noticed what sounded like velocity stepping while playing at medium to hard levels. It sounded like there were only a few velocities rather than seamless differences in sound that you would expect from a highly expressive instrument.
I used
http://fstrixner.de/files/SynthMaker/VelocityChecker.exe
to test the values, and I'm sure I did not do a perfect job, but I believe there is a pattern of missing velocity values on the high end. I've included screen grabs to illustrate what I'm describing. I tested by setting the keyboard velocity curve to light, medium and hard, with velocity sensitivity at zero and playing a variety of songs for about 10-20 minutes for each of the three tests. I found I could get a few more velocities if I bumped up the sensitivity, but that made the keyboard overly sensitive. I could not find a setting which allowed all 127 velocities. The results are repeatable.
The folks at Roland support said that there was difficulty in testing the velocity source, and I don't think they thought that playing the keyboard was a valid method of testing. They did test the JP80 with a sequencer and verified that all velocities are played, but I had already verified that.
The bottom line is that I'd like to know if this is repairable, or if I need to purchase a high-resolution controller like a Fatar, Doepfer or Infinite Response Vax77 in order to get the full expression that the Jupiter 80 is capable of. I would appreciate anyone with a Jupiter 80 trying these tests and report the results. I may have a bum keyboard, or this may be by design, or a result of limitations or errors in the velocity timing algorithms or in the scaling of timing results.
Colors: black=last velocity hit, dark gray=velocity hit, light gray=velocity not hit
Light velocity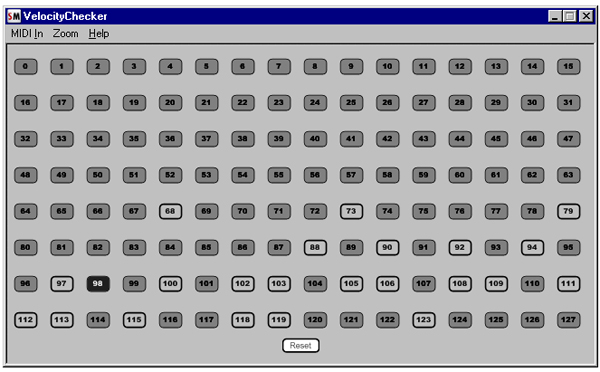 Medium velocity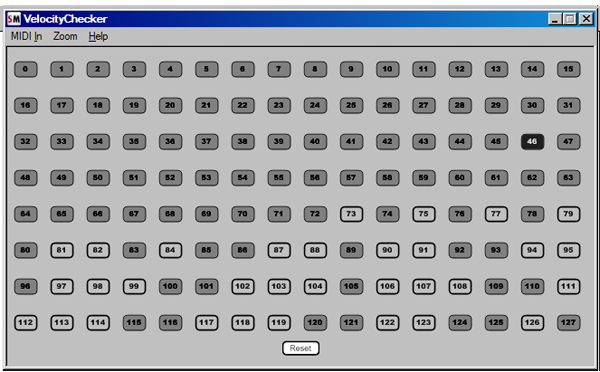 Hard velocity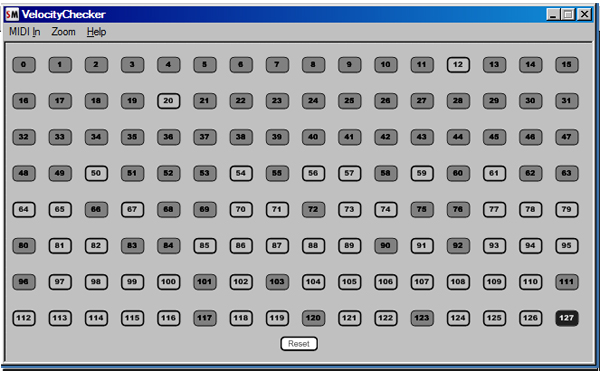 Jobo
p.s. Yes, I know I'm anal